Risotto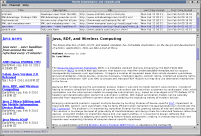 Rissoto is a Java application for managing various RSS (Rich Site Summary) channel lists and viewing them in an integrated pane. An additional pane allows to browse the content of one news item in HTML format. For reading the subscribed news offline all channels are saved in a local directory. The user can choose between updating only selected channels or all channels in the list. Supports opening the links to the stories in an external browser (like IE, Netscape, Opera) window.
To run Risotto the following packages are needed: JDOM from Jason Hunter and Brett McLaughlin,
Xerces-J and
jakarta-regexp from the Apache Group.
Download Java-Classes and Sources (under GPL):
Risotto is also part of the jsurfer project which is hosted on sourceforge.net. You can use the CVS repository to get an impression of the current development state.