MultiView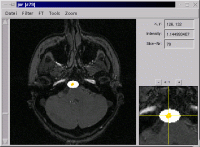 MultiView is an application written entirely in Java to view and analyze 2D datasets (and scroll through 3D data-volumes) collected when measuring with a magnetic resonance (MR) scanner. The following data formats are supported:
raw-data: long integer (little / big-endian),
short integer (little / big-endian), byte integer
GIF
TIFF
circle-data (ASCII-based) own format for phantom processing
I developed this application while writing my diploma thesis (in german). For more information about the functionality
(for example: Application of 2D-Fourier Transformations, Calculation of the frequency distribution, Region-Of-Interest Analysis, Contrast-To-Noise comparisions, viewing profiles) please have a look to the
README file
included in the download-package (sorry, this info is also only available in german). Write me an email if you are interested in the details.
Download the precompiled Java sources (under GPL):